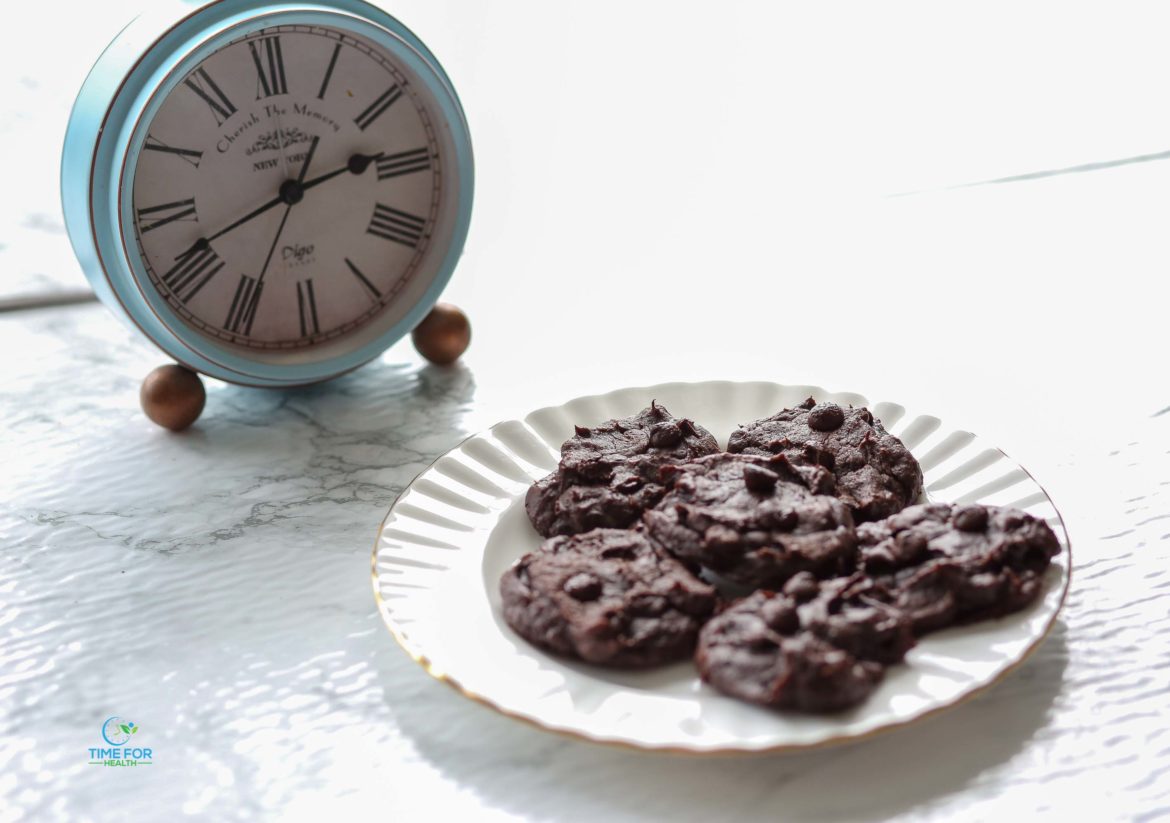 Ingredients
1 ripe avocado about 1/2 cup mashed avocado
1/4 cup natural maple syrup sugar free or maple syrup (if not low carb)
1/2 cup nut butter peanut butter or almond butter (if paleo)
1 egg or chia egg if vegan
1/2 cup unsweetened cocoa powder
1 tsp vanilla extract
2 tsp honey (can use 2-3 drops stevia if looking for low carb)
1/4 cup dark chocolate chips – no sugar added (optional)
Instructions
Check out the video on Facebook here
Preheat oven to 180 C (360F) Cover a baking sheet with parchment paper. Slightly oil the paper with 1/2 teaspoon of liquid vegetable oil (coconut or peanut oil) . This will prevent the cookies to stick to the paper. Set aside.
In a food processor (or mix master), with the S blade attachment, add ripe avocado and sugar free maple syrup (or liquid sweetener you like). Process for 30 seconds until it forms a creamy avocado batter with no lumps.
Stop, add egg, nut butter and cocoa powder. Process again for 30 seconds. Scrap down the bottom and side of the bowl and process for an extra 15 seconds to make sure all the batter is combine – no lumps.
Transfer the chocolate cookie batter onto a mixing bowl. It will bit moist and sticky that is what you want. Stir in chocolate chips and vanilla – if used.
Combine with a spatula until the chocolate chips are evenly incorporated. Test the batter and adjust with 2-3 drops of liquid stevia or honey – only if you want a sweeter cookie.
Prepare a small bowl with warm water, dip a spoon in the water and use that spoon to sample some chocolate cookie batter from your bowl. The water will prevent the batter to stick too much to your spoon.
Spoon the chocolate batter onto the baking sheet and then flatten the cookie with a spatula.
Sprinkle extra chocolate chips on top of each cookies if you like. Bake for 12-15 minutes or until the centre is set.
Cool down 5 minutes on the baking sheet then transfer onto a cooling rack to cool down.
Store the cookies in the fridge for up to 5 days in an airtight container.

Makes approximately a dozen regular sized cookies.